Here comes the second instalment of my Top Five's for 2019 — movies and television. I should probably preface this by saying that for me, any time I'm sitting in front of a screen without a keyboard is a form of escapism, so I'm not too likely to be using much grey matter when I'm watching. It's all about being entertained!
So, without further ado, here (in no particular order) are my Top Five great escapes on screen for the 2019.
1. Star Wars Episode IX: The Rise of Skywalker
Now, this one was always going to be on here. It seems like only yesterday that I was wondering whether my kids might be ready to watch the Star Wars movies, and since then they have devoured everything in the universe currently available (though they might not be quite up to date with the most recent episodes of The Mandalorian).
We saw this movie as a family (which always makes it more special) and we all, unequivocally, loved it. After all, outer space could possibly be the greatest escape of all. On a side note, Miss Malaprop was also properly impressed I accurately picked Rey's parentage within the first ten minutes…
2. Captain Marvel
As a mother of two girls, strong female role models are always high on my lookout list when it comes to movies — Rey in The Rise of Skywalker being a case in point. And while it might seem like completely hyperbolic overload to include two massive blockbusters in this year's Top Five, I simply could not relegate Captain Marvel to the Highly Commended section.
Ironically, part of what made this movie special for me was that I saw it in Hobart with The Bloke when we'd absconded from Sydney without our two (mostly) cherubic offspring for a long weekend in Tasmania. I will always love the Marvel Universe, and I thoroughly enjoyed Captain Marvel from start to finish — and I was, of course, totally entertained by Goose the Cat/Flerken. Winning.
3. Patrick Melrose
Thought you might need a change of pace…
This TV series was one I would describe as an emotional onslaught of epic proportions. How Benedict Cumberbatch pulled off playing the titualr role so brilliantly — being, as he is, in virtually every scene of the entire production — I will never know. Hugo Weaving's performance as Patrick's father is also devastatingly good.
It was difficult to watch Patrick's life unravel, particularly as the audience is given increasing insight into the unmitigating awfulness of his childhood. What makes it even harder to watch is knowing that the series is based on the semi-autobiograpical novels of Edward St Aubyn. That Patrick persists (for the most part) and attempts to overcome the trauma of his past and the addictions of his present transforms Patrick Melrose into compelling viewing.
The final episode also delivered one of my favourite exchanges of dialogue for the year:
Patrick Melrose:  I've decided I'm bored of ghosts. I want to see people instead.

Mary Melrose: Oh, I see. OK.

Patrick Melrose: Or is it too late to change my mind?

Mary Melrose: Not at all. After all, that's what it's for. 
It's not always comfortable viewing, but well worth the effort.
4. The Crown, Series 3
I, like many others, was loathe to see Claire Foy, Matt Smith and Vanessa Kirby relinquish their roles in the newest series of The Crown, but my fears were unfounded. Olivia Colman is brilliant as Her Maj, and Tobias Menzies (once I had got past seeing him as Black Jack Randall) was equally good as Prince Philip. I was less sure about Helena Bonham Carter as Princess Margaret, but she does cut a suitably tragic figure.
The inclusion of Charles Dance as Lord Mountbatten was a stroke of genius (though it could reasonably be said that the inclusion of Charles Dance in just about anything amounts to a stroke of genius), and I was delighted by the performance of Erin Doherty as Princess Anne — particularly the scene where she sings along to David Bowie's Starman without losing a modicum of her stiff upper lip.
We all know what's going to happen in The Crown — let's face it, it's recent modern history, so you'd have to have been living under a rock not to — but I was drawn to the way certain key events were portrayed, humanising both the happenings and the Royal Family themselves. I can't wait for the next series. Not to mention the costumes…
5. Killing Eve, Series 1 and 2
OK, OK…so I was late to the party on this one — but how good is Killing Eve?!
Sandra Oh excels as Eve Polastri, and Jodie Comer turns being the villanous Villanelle into a fine art. Never has being a psychopathic assassin looked so good — or so fashionable — not to mention sounded so incredible (thanks to Comer's brilliant range of accents).
That this show also features Danish actor Kim Bodnia (who I first encountered in The Bridge) as Villanelle's handler was an extra treat for me. Bring on Season Three — waiting is so boring!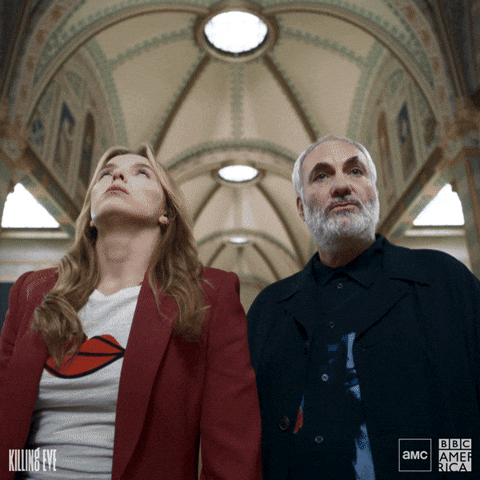 I watched a bunch of other stuff during the year, including a French show called Chefs which kept me entertained, and (thanks to my kids) more episodes of Nailed It than I would care to recall, and fell asleep during almost every instalment I tried to watch of The Witcher — which probably had more to do with the time of year than with Henry Cavill, and I am resolving to do better in the future.
But I can't think of anything else that really stood out for me in 2019. No doubt I will as soon as I hit the publish button…but no matter.
Don't change the channel — next up I'm talking best books of the year.